Rêveries baroques
A work by Marc Kowalczyk bringing together classical music and modern sounds, accessible to all pianists, just for fun!
Watch & Play!
Listen: in video (on YouTube in particular), audio or in concert, many pianists give their versions of Rêveries baroques
Play: with video tutorials, the score or by ear…
Share: on your piano, in a train station, in concert or by posting a video on your social networks…
After having explored a number of aesthetics, Marc Kowalczyk is committed to renewing, on his own scale, the way in which music is transmitted: emancipating himself from the traditional score and giving access to this music to as many people as possible. His latest work is based on the heritage of the piano repertoire and integrates today's sounds: Rêveries baroques is a piece for solo piano designed to be accessible to all pianists (beginners or more advanced) via different learning methods that do not necessarily require the ability to read music. In addition to the traditional score, explanatory videos and other tutorials allow all pianists to play Rêveries baroques.
And to help you discover this original piece, we have asked professional pianists to present, interpret, explain and teach you Rêveries baroques both on stage and online: all you have to do is watch and play, for a shared musical pleasure!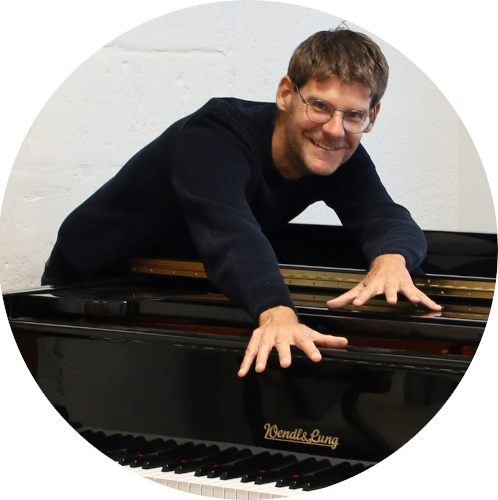 The work in concert
Discover Rêveries baroques on stage, by its ambassadors!
International pianists perform Rêveries baroques all over the world.
Find your concert below!
World premiere
22 January 2023
By Han-Lin Yun
Duisburg City Theatre, Germany, 10:30 am Foyer de l'Opéra
Concert for the ceremonies of the 60th anniversary of the Élysée Treaty, organised by the Franco-German Society of Duisburg in the framework of the French Week. With the support of the Franco-German Citizen Fund.
February 21, 2023 – Poland
Grzegorz NIEMCZUK
Concert Birthday of Chopin
Płońsk Cultural center – 06:00 PM
More
March 11, 2023 – Luxembourg
Han-Lin YUN
Concert in the framework of "Artistes en Herbe" competition
Foyer of the European institutions, Luxembourg – 08:00 PM
Mars 22, 2023 – Poland
Grzegorz NIEMCZUK
Concert Birthday of Chopin
Bielsko Biala Cultural center – 06:00 PM
More
March 24, 2023 – France
Véra tsybakov
Concert – Festival Georges Cziffra
Le Quarto Theater, Unieux – 08:30 PM
More
April 28, 2023 – Norway
Grzegorz NIEMCZUK
Recital "Romantics Highlights"
Kongsberg Theater – 07:00 PM
More
May 03, 2023 – Norway
Grzegorz NIEMCZUK
Recital "Romantics Highlights"
Opera House, Norfjodeid
October 24, 2023 – Portugal
Vasco Dantas
Concert – 8e edition festival "Algarve Music Series"
Faro
More
November 03, 2023 – Germany
Vasco Dantas
Piano recital
Siemens Foundation, Munich
June 2024 – France
Véra tsybakov
Coming soon
The Rêveries baroques Ambassadors